Flexibility and Control with Your AllSouth Debit Card
Easier to use than cash or checks. Your AllSouth Debit Card can be used for purchases worldwide anywhere Visa is accepted. Use your Debit Card to make purchases in person, online, or over the phone. You can also enjoy an easy, smart and secure checkout experience when shopping online.
Need cash back? You can access any of AllSouth's ATMs or the thousands of surcharge-free ATMs across the country. Cash back options are also available at participating merchants using your PIN.
Turn your card "on" and "off." If you ever misplace your Debit Card, CardControl makes it easy to turn your card "off" to prevent purchases or withdrawals and quickly turn your card back "on" once you find it. Plus, you can control where your card is used, set spending limits, and receive alerts.
Pay contactless. Our new Debit Cards are contactless so you no longer need to insert or swipe your card. Just tap your card at checkout and go!
---
Benefits of Using Your AllSouth Debit Card
Security. Your card is chip-enabled and provides additional protection from unauthorized use and fraud. Plus, you're protected from unauthorized purchases through Visa's Zero Liability Policy.*
Technology. Add your AllSouth Debit Card to your Mobile Wallet using Samsung Pay®, Google Pay™, or Apple Pay® so you can have your card all the time, even if you forget it at home.
Convenience.  Accepted everywhere Visa is accepted. Purchases made with your card are deducted directly from your checking account. You can view your Debit Card purchases 24/7 using Online and Mobile Banking. 
---
Debit Card FAQs
How do I activate or reset the PIN for my Debit Card?

Call 1-800-992-3808 anytime to activate or reset your PIN. You can also reset your PIN at any AllSouth ATM.

What if I lost my Debit Card or it's stolen?

If your Debit Card has been lost, stolen, or you think your card number has been compromised, you can let us know right away by calling 1-803-736-3110 or 1-800-272-0695. Plus, our lost and stolen debit card service is available 24/7. You can also use CardControl to easily turn your Debit Card "off" to prevent unauthorized purchases or withdrawals. 

What are the limits on my Debit Card?

For your protection, there is an ATM cash withdrawal limit of $500 per day. Debit cards have a limit of 15 authorizations per day.

Can I use my Debit Card outside of the United States and are there fees for this?

You can use your Debit Card anywhere you see the Visa logo. If you use your card outside of the United States, there is a 1% foreign fee added to each transaction. Please remember to call us at 1-803-736-3110 or 1-800-272-0695 or email memberservice@allsouth.org with your travel dates and destination.

My Debit Card expires this month, when will I receive my new card?

Your Debit Card is good through the last day of the month it expires. Replacement cards typically mail around the 15th of the month the card is scheduled to expire, so you should receive your new card towards the end of the month the card expires. 
Mobile Wallet
Tap to pay with Mobile Wallet.  Add your AllSouth Debit Card to your mobile wallet using Samsung Pay®, Google Pay™, or Apple Pay®.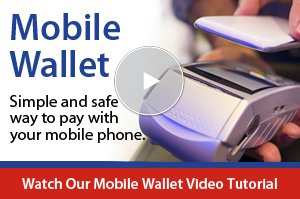 *
Visa's Zero Liability Policy covers US-issued cards and does not apply to certain commercial card transactions or any transactions not processed by Visa. You must notify AllSouth immediately of any unauthorized use.