You are in control
Purchases made with your card are deducted directly from your checking account. All transaction information is viewable 24/7 in online banking or through our mobile app. You even get to choose your own PIN.
To activate your AllSouth Visa Debit Card, or reset your PIN, call 1-800-992-3808.
Convenient
Click, pay and be on your way with Visa Checkout. Create an account once and speed through checkout with a single login, without having to re-enter your card or shipping details at every visit. Enroll in Visa Checkout with your AllSouth Visa Debit Card.
Visa debit cards are accepted at millions of locations worldwide and are easier to use than cash or checks. You can use your card to make purchases in person, online, or over the phone. And, if you need cash, you can access any of AllSouth's ATMs or the thousands of ATMs across the world. Plus, get surcharge-free access to thousands of ATMs across the country in the CO-OP network. Cash back options are available at participating merchants using your PIN.
Secure
Carrying a debit card - especially one with a chip - is safer than carrying cash. You are protected from unauthorized purchases through Visa's Zero Liability Policy*. Plus, we notify you of any unusual activity related to your card. Our staff is available 24/7 if you have any concerns about your card.
---
Mobile Wallet
Pay easier with Mobile Wallet.  Add your AllSouth debit card to your mobile wallet using Apple Pay® or Google Pay™.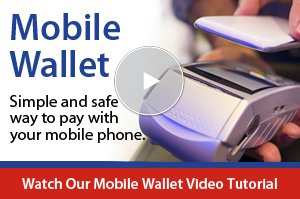 ---
CardValet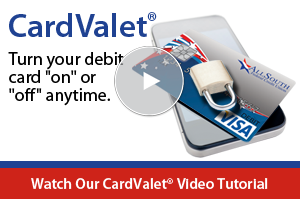 Download the app for CardValet from the Apple App Store® or Google Play™ store.
*

Visa's Zero Liability Policy covers US-issued cards and does not apply to certain commercial card transactions or any transactions not processed by Visa. You must notify AllSouth immediately of any unauthorized use.